Turtle Cove Villas on Kiawah Island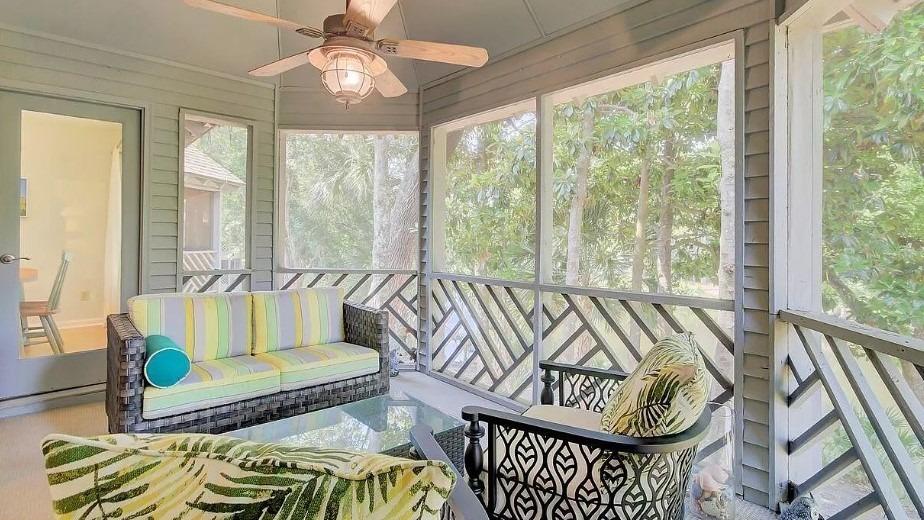 Turtle Cove vacation rentals offer the ultimate getaway with views of the Tommy Cuthbert Golf Learning Center and the Roy Barth Tennis Center on East Beach. East Beach Village is the heart of Kiawah Island, anchored by the 21-acre Night Heron Park and legendary Sanctuary Hotel. East Beach offers the best of both worlds with easy access to Kiawah's 10 miles of beautiful beaches and a central hub of activity for the whole family with a relaxed, social atmosphere.
You're within walking or biking distance to Kiawah Island's top activities, attractions and easy grocery shopping at the Town Center Market. Enjoy family-friendly activities and island celebrations at Night Heron Park, shopping and dining at The Sanctuary Hotel, award-winning tennis at the Roy Barth Tennis Center, and world-class golf at Turtle Point Golf Course.

2 BEDS
Stunning two bedroom villas with spacious living areas and beautiful views.
PORCH
Each villa has a private screened-in porch overlooking the lagoon and forest.
BEACH
The beach is only steps away with nearby access at either Boardwalk 28 or 29.
VIEWS
Enjoy stunning one-of-a-kind views of the tranquil lagoon and maritime forest.
---
This spacious second floor villa boasts stunning lagoon views and is located only a short 7-minute walk or 2-minute bike ride from The Sanctuary, Night Heron Park, and miles of pristine Kiawah Island beach.The living space is bright and open, offering comfortable seating and a flat screen TV to sit back and relax with stunning views of the private
---